Jeff Stairs
Drums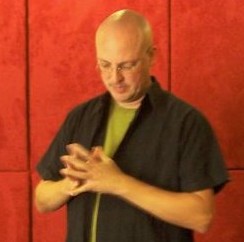 A native of Canada, Jeff began smacking around on a crude drum set of boxes, lids and jars at around age 10, to the sound of the Beatles' Sgt.Peppers playing in the background. A few years later, in the early '80s, he received his first bona fide drum set and a taste for more technically adventurous bands like Genesis, Yes and (fellow Canadians) Rush.
Through his remaining high school years, he was introduced to jazz stylings and orchestral percussion, and pursued further instruction under a handful of tutors at Toronto's Humber College.
Now a resident of Florida, he has lent his wide palette of rhythmic flavors to ensembles ranging from jazz trios to orchestras; from theatre pits to blaring rock bands; and from traditional swing bands to the unique arabic fusion sounds of Mo'Rockin at Disney's Epcot.