Brandy Moulden
Violin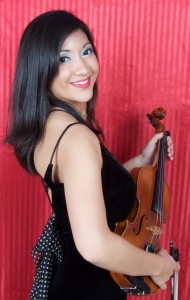 Brandy is a native of Los Angeles, California. She relocated to Dallas, Texas as a child and began her first violin lessons at the age of 11 under Petr Skopek. She tutored her younger brother Michael on the violin and both performed with the Lone Star Youth Orchestra for seven years.
She was involved in chamber orchestra for the 3-time Grammy Award winning Flower Mound High School where she also served as Orchestra President. A devoted chamber musician, Brandy is also a founding member of the Flower Mound Fiddlers. She has performed in various concert series and festivals throughout the United States.
Brandy continued her education in music and the arts at the University of North Texas.  She now brings her vibrant personality and musical skills to the Violectric stage in addition to various Florida orchestras.